The EdTech Evolution in 2022 and Beyond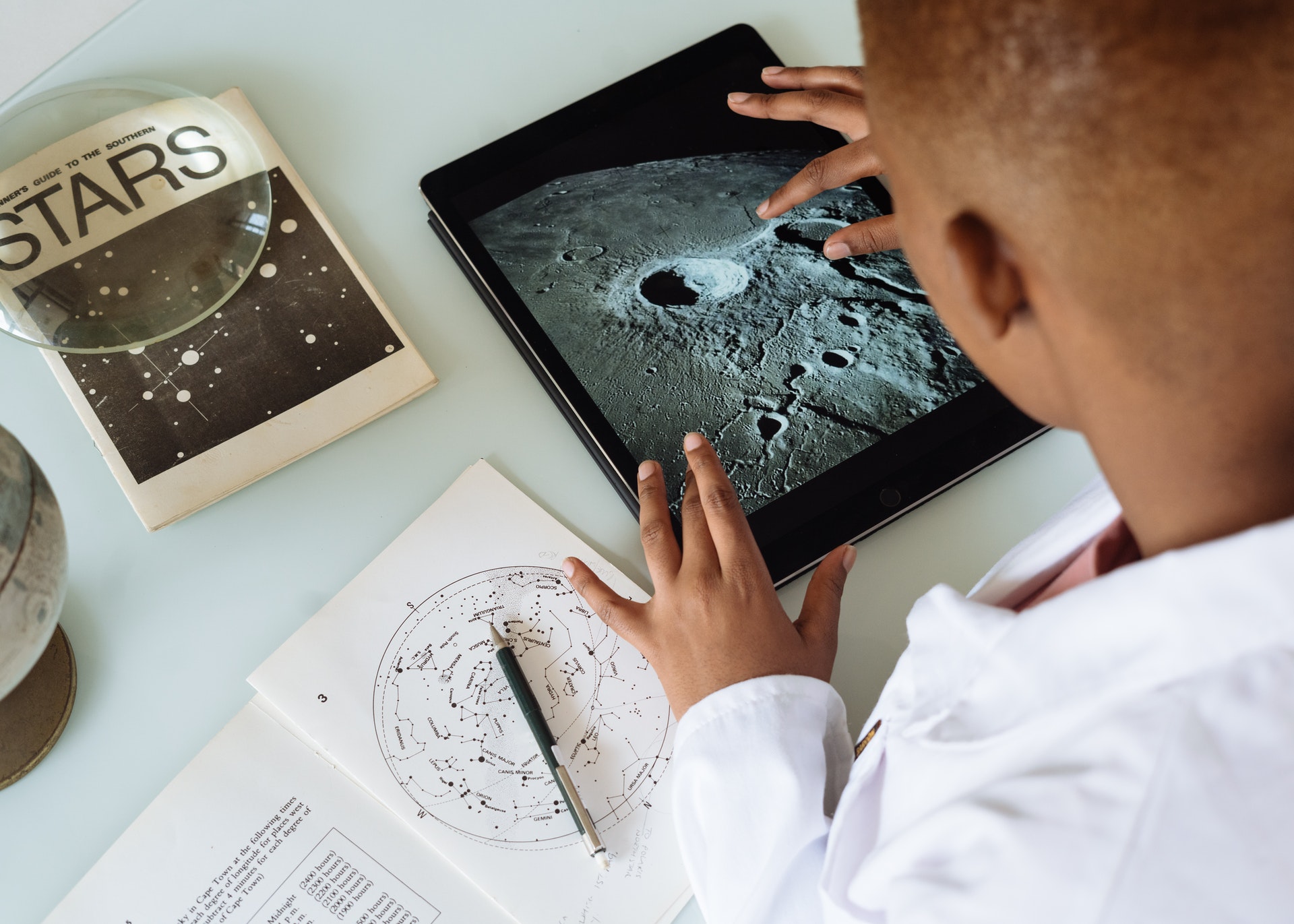 Introduction
EdTech is a broad, rapidly-changing field, with new developments emerging almost daily.
Reviewing the history of educational technology illustrates just how much this sector has changed and evolved over the past century.
From traditional modes of learning like lectures, to computers, interactive software, and more recent approaches such as flipped classrooms and MOOCs, each generation has been defined by the knowledge transmission methods it has used.
The technological capabilities have also advanced over time, leading to bigger and better tools that allow for more students to engage and learn online.
The sheer size and complexity of the field often make it difficult to see the big picture. But that's what this article is going to do: we'll look at how EdTech has developed over time, and talk about what to expect for the future of EdTech.
This blog post covers the following information:
Definition of EdTech
The EdTech Boom
The EdTech Evolution: How It All Started?
The EdTech Evolution: As of Today
The EdTech Evolution in 2022 & Beyond: The Future Trends
What Is EdTech?
EdTech, or education technology, is a broad term that covers any type of technology used in the education field. EdTech can be as simple as a digital textbook, as complex as an online learning platform designed to help students prepare for college entrance exams, and anywhere in between. The goal of EdTech is to take advantage of the power of technology in order to advance education.
The EdTech industry has been growing steadily over the past few years and has seen a recent surge due to the current global health crisis. Global spending on education has almost doubled since 2000, and it's expected to grow even more in the next decade: the global industry will be worth $7 trillion by 2025. That's an enormous increase from the $3 trillion in 2000, and it means that education will make up 7% of the world's GDP.
Fig.1 A graph showing the market rise of global education and training.
While there are many different types of EdTech tools, most of them fall into one of these three categories:
Tools for assessing learning, like online quizzes and exams
Tools for delivering content, like online courses and ebooks
Tools for collaboration, like video conferencing and online communities
EdTech fits into the broader category of "learning technologies." While EdTech specifically refers to educational technologies that are used in schools or other formal learning environments, learning technologies can be used anywhere—from online training modules required for new hires at companies, to virtual study groups for students preparing for the SATs.
The EdTech Boom
EdTech has been garnering attention for the past several decades, but it wasn't until the global Covid-19 pandemic that it really caught on worldwide.
In fact, EdTech as a concept—using technology to help students learn or boost a teacher's effectiveness in the classroom—can be traced all the way back to Plato's Academy. At the time, platforms were built out of stone and mortar, not electronic ones.
In China, for instance, EdTech was already booming before Covid-19 hit. In 2003, after an outbreak of SARS (severe acute respiratory syndrome), Chinese schools were closed temporarily and classes moved online. In Mexico, which was also hit by H1N1 (swine flu) in 2009, schools made plans to continue classes remotely and invested heavily in creating digital curriculum for their students, including ebooks and other digital resources.
But it wasn't until 2020 that EdTech saw its first global boom. The Covid-19 pandemic had forced people to stay at home, which meant there were no schools open, no colleges, and no universities either. This led to students taking online classes, teachers giving online lessons, and universities and colleges offering virtual lectures.
Suddenly, everyone had to adapt to this new way of learning and teaching and many even benefited from the change. Not only did EdTech prove to be beneficial during the pandemic, but even after it ended, many universities and colleges continued with their virtual lectures and classes due to the ease of accessing these technologies offered for both teachers and students alike.
New York's former Governor Andrew Cuomo announced in May of 2020 that he is planning to rethink education in the state with the help of Bill Gates and Google's CEO Eric Schmidt. The pandemic has underscored how difficult it is for schools to meet the unique needs of every student, particularly those with special needs, and it has sparked interest in alternative models for teaching and learning across the country.
Schmidt's planned to make New York a testbed for educational tech. He envisioned a partnership with the state to create tools for remote teaching, and he could use New York as a proving ground for experimental technologies like facial recognition software.
Online learning has been shown to be effective and efficient in previous crises, but this time around it really went global—and fast. Now that everyone is using EdTech in some form or another, it's likely that we will continue to see its influence on education long after Covid-19 has left us behind.
As EdTech continues to grow, so does the amount of money being invested in it. In 2020, the education sector spent $227B on digital education. This spending is forecasted to grow 12.2% to $404B by 2025.
Fig.2 A graph showing digital spending on EdTech (2020-2025) Source
Many EdTech experts have noted that the rise in the number of people using EdTech is not just a response to remote education, but a genuine interest in using digital tools for teaching and learning. This means that as the Covid-19 pandemic subsides, EdTech will continue to grow and thrive in the U.S. and around the world.
As Microsoft says in its Education Reimagined paper:
"The fallout from COVID-19, continuing advances in digital technology, and intensifying pent-up demand for student-centered learning have combined to present an unprecedented opportunity to transform education across whole systems."
The self-paced eLearning segment is expected to grow from $46.67 billion in 2016 to $243 billion by 2022, according to a recent report by Statista. That's a compound annual growth rate of 36%!
The EdTech Evolution: How It All Started?
The EdTech industry has evolved immensely over the years in terms of technological advancements, pedagogical innovations, and financial backing.
Its history is inextricably tied to the history of communication. From oral learning to written learning, to projectors with built-in software, EdTech has evolved alongside how we communicate and how we learn.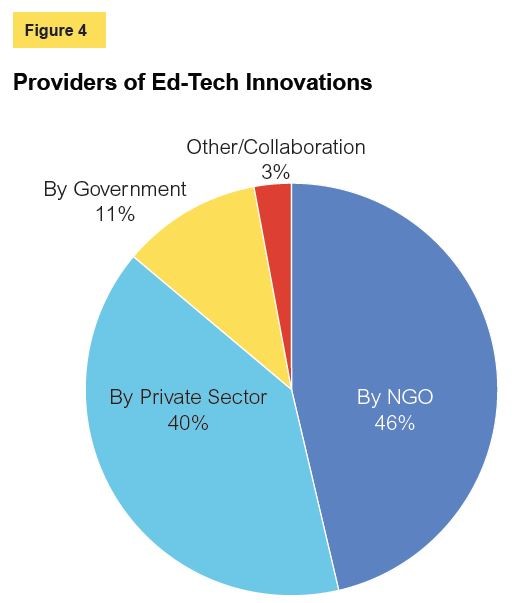 Fig.3 A pie chart showing the providers of EdTech by segment type (source)
Over the centuries, educators have strived to make learning as efficient as possible. Here we take a look at the evolution of edtech – from its earliest days in classrooms to how it is used in schools today.
Oral Communication as a Learning Tool
In the early part of human history, education was an oral tradition. Storytelling and memorization were the primary methods of passing knowledge from one generation to the next.
The advent of writing marked a major turning point in education. By the end of the 15th century, printing presses had been invented, allowing copies of books to be created more easily and cheaply.
Blackboard and chalkboard technology changed education again in the 18th century, allowing teachers to show their students how to solve math problems and other processes on a larger scale than ever before. Students could see the whole process in front of them, rather than needing to copy it down by hand or memorize it orally.
After World War II, projectors became popular among educators in America, as they allowed teachers to show students slideshows with topical information more effectively than ever before.
PowerPoint came along at the end of the 20th century and allowed teachers to include images and graphics into their classroom presentations. It also provided an easy way for students to create slides that could be used for projects or presentations with little technical skill required.
Writing as a Learning Tool
Most historians agree that the earliest form of EdTech dates all the way back to the Ten Commandments, which were invented by Moses in order to educate people about God and his will for them.
After this, the history of EdTech moved on to the invention of the printing press in Europe during the 15th century, which allowed educational materials to be printed out and distributed at a much faster rate than ever before. This helped facilitate education for all students, not just those who could afford it or had access to a private tutor. The industrial revolution created even more educational technologies such as chalkboards and calculators that were used in schools around the world until computers became widely available in homes starting around 1980.
Video & Radio Technology as a Learning Tool
Video and radio technology has been around the longest: the first educational adult series was broadcasted by the British Broadcasting Corporation in the 1920s, and it was titled, "Insects in Relation to Man."
Not exactly a catchy name, but it marked an important step for EdTech. Educational television programs continued to grow in popularity throughout the 1960s—and in 1968, the UK government went so far as to form a program called Open University with a mission to televise educational TV series for university students.
The advent of satellite technology in the 1980s allowed programmers to broadcast their educational programs even further than they could before—and very soon, video learning became famous. However, experts note that efforts to spread video technologies to third world countries were short-lived because those countries lacked proper facilities. By the end of the 20th century, video learning became a common staple of online education in advanced countries.
Computer System Technology as a Learning Tool
In the 1930s, it was realized that the use of computing technology could be beneficial in education.
However, it was not until 1981 that the first commercial portable personal computer (PC) was developed by Adam Osborne. This changed the landscape of EdTech forever and made it possible to use technology to enhance learning in all areas.
In 1986 Toshiba launched portable PCs. A year later Apple launched the Mac Pro Powerbook, which became an important learning tool for students and educators alike, especially in the field of language learning.
By 1990, the World Wide Web had come into existence, which led to a huge boom in education technology and access to information in general. 1993 saw the beginning of another major shift in education technology: Personal Digital Assistants (PDA's). These pocket-sized computers were incredibly useful for educators and students alike: they allowed users to access their email and calendars remotely and make notes by hand or voice as well as by keyboard.
And by 1998 almost every learning institution in the United States had a computer and a stable internet connection for educational purposes.
The EdTech Evolution: As of Today
Modern-day EdTech trends are broken down into three main categories: learning management systems (LMS), digital content/curriculum, and student-centric learning. These innovations help teachers, parents, and students understand the needs of each individual better than ever before.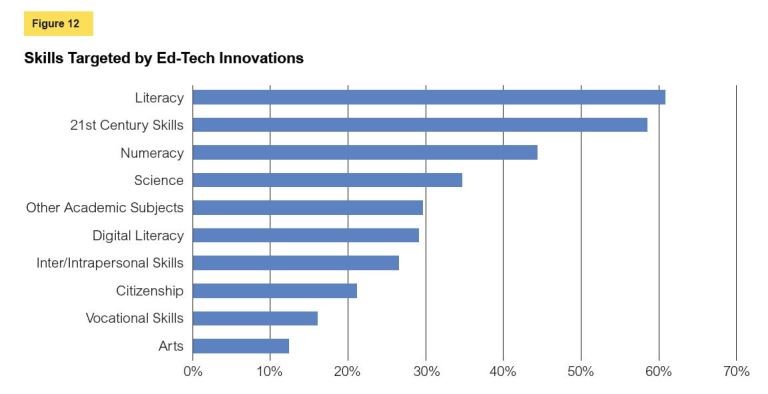 Fig.4 A graph showing the skills targeted by the EdTech evolution as of today (source)
Some examples of modern tools and mediums used for EdTech include: online courses, interactive games for younger children, artificial intelligence programs that can grade assignments, mobile apps that help students stay on track with their course load, and applications that offer students the ability to create their own personal learning path based on their interests.
So what are some of the trends in EdTech today?
Virtual schools
Virtual schools are becoming more popular too. With virtual schools, students learn entirely online and work at their own pace using computers and other devices. Virtual schools have been around for a while now, but recently they've become more popular—especially in places where school budgets are limited or there aren't enough educators for the number of
students.
The Florida Virtual School (FLVS) is an example of a virtual school. FLVS gives students the option to choose when they start, so long as they finish by a certain date, what time of day they want to work, and where they want to work. For example, some students choose to work at night while others prefer working in the morning. Some students do their work on a laptop while others work on a tablet or phone.
Students have many choices for personalizing and individualizing instructions. Just like at a real school, there are teachers available to answer questions and provide guidance. However, unlike at a real school, there are no fixed times for discussion with teachers; FLVS teachers make themselves available through email or text throughout the day, so students can contact them whenever they need help. In addition to talking with instructors one-on-one, there are also opportunities for students to interact with other students online through discussion forums and scheduled virtual class sessions.
Students also have choices about how they respond to assignments. At FLVS, students can submit video demonstrations of science experiments instead of written summaries—they can even demonstrate their projects using Legos!
Interactive Whiteboards
Interactive whiteboards, which are also called smart boards and touchscreens, are like large touch screens that teachers can connect to a computer or other devices in order to enhance the learning experience for students. They can open up web pages for the class to look at, annotate over video, use apps on the board with students in real-time, draw diagrams, and more.
In 2019, data was collected by the Amasya University Turkey from a total of 877 high school students in order to investigate their perceptions of the new generation of Interactive white board (IWB). The data revealed that about half of the students believe that IWB are useful and effective, with a significant majority reporting that the IWB made learning more interesting.
Some examples of interactive whiteboard apps that can be used in the classroom:
➜ Microsoft OneNote is an app that allows teachers to share their screen with students and annotate over what they're showing. For example, they could open up a website and circle key information or add an arrow pointing to something important.
➜ Google Classroom is an online platform where teachers can set up digital copies of worksheets and assign them out to students digitally instead of printing them out on paper. Students can type directly on this digital copy as if they were writing on a regular worksheet, but it's all done online. This makes it easier for teachers to keep track of assignments, grades, and student work in general.
Digital Storytelling
Digital storytelling is a popular practice in the EdTech industry today. It refers to the use of digital technology to tell stories, including a wide range of media tools that can be used to create and consume digital stories. These include web publishing tools, video, sound recording and editing tools, graphics and animation programs, photo editing software, and more.
One example of digital storytelling is the Netflix movie Bandersnatch. The viewer watches an interactive TV show that puts them in the seat of a character playing a video game. The viewer then makes decisions for the character, who is attempting to create a video game himself. This story has multiple endings and dozens of decision points, so it's up to you how long the story will last, who will survive and what will happen in the end. The viewer interacts with this story through their remote control or keyboard, which allows them to make choices that impact how future scenarios play out.
Blended Learning Environment
​​Blended learning environments are becoming more common in today's EdTech. A blended learning environment is one where you combine traditional face-to-face instruction with a digital learning environment. When it comes to a blended learning environment, technology can be used for many aspects of the classroom.
According to the E-Learning Industry, "Blended learning allows you to use multiple learning modalities and helps your students retain 60% more information."
For example:
In the classroom, teachers can use an interactive whiteboard or projector to display information and incorporate multimedia activities. Students can play online games that teach essential skills. Research projects can include posting student work online for feedback from peers.
At home, students can access the software and assignments that they use in class on their personal computers or tablets. They can also read ebooks and watch educational videos.
Students can collaborate on group projects by sharing documents online. Teachers can post announcements and syllabi online for students to access before class and at any time. They can also send out digital forms so parents can answer questions about their child's progress without having to fill out a paper form.
Online Learning Platforms
Online learning platforms are part of the EdTech revolution, along with learning management systems and virtual reality. These platforms are basically where you can learn about anything you want to on the Internet. There's no real structure for what kinds of things go on these platforms, but they can be anything from lessons to whole courses.
They're popular because they offer the freedom to learn what you want when you want in an affordable way. You don't have to pay to audit a class at a university, and often online courses are cheaper than in-person courses. Plus, if you're working or have a busy schedule, it's easier to find time and space to learn online.
Khan Academy is a great example of an online learning platform: it's made up of tons of videos teaching everything from math to history, along with interactive learning tools that let students test themselves as they go through a video lesson.
The EdTech Evolution in 2022 & Beyond: The Future Trends
EdTech has come a long way since the days of the abacus and clay tablets. In recent times, though, it seems that the rate of change in this educational technology sector has quickened, and changed with it has been the associated vocabulary. It is worth seeing what we can expect in future as this area inevitably keeps on innovating to improve our lives.
Will teachers stop teaching and become employees? Will we no longer have classes as we know them? Will we need to spend more time online and in virtual learning environments like MOOCs (Massive Open Online Courses)? This section here predicts how technology is radically changing the makeup of the modern classroom, and what it means for the future of education.
Fig.5 A graph showing current and expected future growth of different EdTech trends (2018-2025) Source
Animated eLearning
If you look at all the new products being released in recent months, it's clea
r that one trend stands out above the rest: animated eLearning.
So what is animated eLearning? It's exactly what it sounds like—animation that helps users learn. The beauty of animation is that it can give learners the best of both worlds: they get the flexibility and convenience of eLearning while also getting the visual stimulation and context they need to really understand information. And when you have an option like this, you don't just have to choose between passive learning or active learning—you can have both!
The result? More engaged students, better retention of information, and more successful outcomes for everyone involved.
A study conducted by Ahi Evran University and Gazi University examined the effect of an online learning environment based on caricature animation on 46 students. The students were divided into two groups, with 23 in the experimental group and 23 in the control group. The experiment group used caricature animation as part of their lesson, while the control group used a more traditional learning environment. The results showed that those students who had access to caricature animation achieved better results than their counterparts in the control group.
Artificial Intelligence
AI has been making a big splash in education for the last few years, and it seems like that trend isn't going to slow down anytime soon.
Why? Because AI is an awesome tool to help teachers—challenging and supporting them, allowing them to focus on the human side of their jobs and creating more time for thinking, planning, and connecting with students.
Imagine being able to create a personalized learning system that is based on each student's strengths and weaknesses. Imagine teaching a class of hundreds of students without having to worry about grading essays or tests. Imagine having the ability to develop well-rounded lessons that focus on all learning styles—the visual learner, the auditory learner, and so on. With AI, you can do all that and more.
In addition, AI is beginning to be used in educational tools such as online learning platforms and virtual tutoring services. These tools are able to provide students with personalized guidance and instruction that helps them learn at just the right pace for them. This way, students get to tackle the exact concepts they struggle with most, but not so much that they become overwhelmed or frustrated by their learning experience.
When it comes to education, there are three main kinds of AI:
→ Predictive: Think of apps that tell you how long your commute will take, or answer questions like "What's the weather tomorrow?" These are software programs that use data about what's happened in the past to make predictions about what might happen in the future. They can also be used to predict how students might do on an upcoming test based on what they previously knew or struggled to learn.
→ Adaptive: Adaptive AI adjusts the experience to each individual student based on their learning needs. For example, if one student is excelling with fractions, while another student is struggling, the adaptive AI could create a curriculum or lesson plan that helps each student strengthen their understanding of fractions at their own pace without falling behind or getting bored.
→ Assistive: Assistive AI can help students learn by coaching them through problems and concepts. For example, it could tell students to try adding fractions using different methods until they figure out which one works best for them, or suggest taking time to re-read a passage and then find evidence for an argument within the text.
Virtual Reality & Augmented Reality
Virtual reality (VR) allows someone to exist in a computer-generated world that responds to their actions. Augmented reality (AR), on the other hand, takes a live view of the real world and superimposes computer-generated images on it—allowing users to interact with the data that is overlaid.
Both types of technology have been used to create immerse learning experiences for students. In math, for instance, how many times have you heard kids tell you they don't understand geometric shapes or complex equations because they just don't "see" them? Virtual reality can allow kids to walk around in these concepts and gain a new perspective on them.
Virtual and augmented reality (VR and AR) in educational technology (EdTech) is a relatively new field that is poised to explode over the next few years.
One of the most exciting aspects of VR and AR in EdTech is the potential it has to make learning more engaging. By allowing students to interact with an immersive environment—either one they're physically present in or one they're experiencing through technology—we can capture their attention and keep them engaged in a way that's not possible with traditional learning models.
On top of capturing attention, VR and AR also allow us to create scenarios that are otherwise impossible to experience. We can incorporate virtual versions of animals into science lessons, simulate historical events for social studies class, or even bring abstract concepts like numbers or algebraic equations into a 3D space so students can understand how they work.
The use of VR and AR in EdTech is, at least for now, focused on high-level technologies that aren't yet feasible for widespread adoption because of cost. However, we can expect to see two big shifts in the near future: wider adoption of high-quality VR/AR hardware such as headsets and goggles, and the development of more accessible software to take advantage of that hardware.
Blockchain
Blockchain technology has the potential to revolutionize many aspects of our lives, including education.
Blockchain is a system for keeping records that's decentralized—instead of being stored in one central location, it's distributed among hundreds or even thousands of computers around the world. This means it's nearly impossible to exploit a blockchain system.
Because of their unique qualities, blockchains can be used to create a digital certificate system for students. One example is Holberton School, a two-year coding school that uses blockchain-based certificates to prove students have successfully completed their programs.
With this system, graduates are issued a unique certificate ID. The certificate ID links to the student's private key, which allows them to sign documents digitally and share their proof of completion with employers.
Blockchain technology can also help make credentialing more secure by providing a way for students and employers to verify credentials without having to go through central institutions like colleges and universities.
There are many ways that Blockchain can help improve education. One of its most straightforward applications is in grading: teachers can use Blockchain to create more accurate records of grades and assignments, as well as store them securely. Blockchain's ability to ensure anonymity will also make it easier for students who need accommodations due to disabilities or other factors—such as taking exams in a non-standard location—to access those resources without having their privacy compromised.
Another benefit of Blockchain technology for education is its ability to track student progress over time. If a school district wants to see how its students are doing on standardized tests year-over-year, they could use the technology by storing all data from those tests within one blockchain ledger entry per child.
Blockchain can also be used to create some other interesting educational technologies a
nd platforms. Some of these include:
Smart Contracts: This is a type of contract that automatically executes when certain conditions are met without the need for human intervention. Smart contracts can help students keep track of the progress on their academic journey and provide them with the credits required for transcripts and other documents.
Cheating Prevention: Blockchain can be leveraged to combat cheating by tracking exam submissions, verifying test takers' identities, and ensuring submissions are original work.
Transcript Management: Since Blockchain is tamper proof and records each transaction chronologically, it can be used to help manage student transcripts. This means that schools no longer need to worry about students tampering with their transcripts either through fake grades or forged signatures during their time at school.
Cloud Computing
Cloud computing has revolutionized the way we do business, and its advantages are not limited to money-making enterprises. As education technology grows in importance, cloud computing will continue to be an essential tool for educators, administrators, and students.
Cloud computing has transformed the way we learn and how instructors teach. In addition to accessing information on-demand, there are now online classrooms where instructors can connect with students across the globe. Students can collaborate with one another and share ideas through virtual whiteboards, screen sharing apps, and much more. In addition to enabling collaboration between educators, cloud computing may also facilitate connections between students who attend different schools. This could have a profound effect on the way schools approach knowledge transfer across the board—from grades K through 12 all the way up to the graduate level.
As it is now, students from different schools have little opportunity to collaborate with students from other locations. With cloud computing, this could change. Students from different schools could be able to work on assignments together with ease, and teachers could more easily collaborate with their colleagues at other institutions to pool resources and develop new teaching strategies.
CC is a major part of the EdTech landscape, allowing for educational materials to be accessed from anywhere, and for collaboration and research to be more accessible than ever before. As cloud computing continues to improve and to add new features, it will become increasingly important in education.
Here's how cloud computing has been used by educators so far:
Accessing mobile apps and programs
Facilitating student collaboration
Automating administrative processes
Allowing teachers to access/create content that can be updated in real time or as needed
Reducing costs associated with IT infrastructure solutions
Cloud computing makes it possible for a school to provide access to software programs without having to install them on every single computer that's used at the school. Instead, the programs can be accessed through the internet using a web browser. This saves time and money because the school doesn't need to pay for a system administrator whose only role is maintaining software licenses, installing and updating programs, and troubleshooting problems with those programs. Furthermore, if the school uses cloud-based applications such as Google Docs or Office 365, students will be able to access their work from any device that has an internet connection. Cloud computing also makes it easy for teachers to collaborate on projects and share their work with students which can improve productivity and bolster enthusiasm for learning.
Conclusion
In our opinion, EdTech Evolution (i.e., student-centered learning) provides the potential to revolutionize education, while at the same time retaining the most valuable virtues of our current system (accessibility and adaptability). However, in order to realize this potential, we need to build digital tools which allow students to learn and demonstrate what they have learned in a way that is easy for both instructors and students to use and that serves as an effective bridge between informal and formal learning.
At MpireSolutions, we help you with EdTech Websites and Mobile Apps development as we understand the importance of custom development using top technologies & tools that are tailored to your specific needs and goals. Whether you need help creating a new web/app or updating an existing one, we can provide the assistance you need.