Tokyo 2020 Olympics: How AI is Revolutionizing Time Keeping
The 1896 Summer Olympics had some interesting rules when it came to timing, as the very first marathon took place in Athens. The race was 40 kilometers long and competed by 17 people representing five different countries – but a Greek water carrier named Spyridon Louis claimed victory, clocking in an impressive time of two hours, 58 minutes, and 50 seconds.
But, who was recording the time? Well, the very same stopwatch set running by the judge at the start of that historic race was delivered ahead of runners—by bicycle, no less—to record the momentous time as Louis crossed the finish line.
Over the last 125 years, things have improved considerably. For instance, it wasn't until 1932 when Omega started to provide official timekeeping services for the Olympics and drove many of these advances including the infamous "Magic Eye."
This camera made its debut in 1948 during London's Olympic Games as a joint effort between Omega and British Race Finish Recording Company with its photoelectric cell technology that made it possible to record an accurate finish without any bias or long wait periods like before.
Officials were initially cautious while implementing the new technology. Hand-stopping was still used for official times in 1948 – and it took another 20 years before the photo-finish camera's use became widespread. But by 1968, at the Mexico Olympics, electronic timing had taken over completely – though some 45 manual timekeepers were sent just in case something went wrong!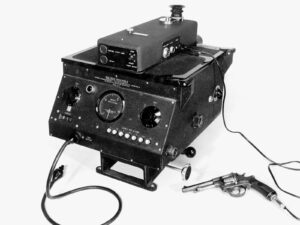 The "Magic Eye" camera, introduced in 1948 in London. PHOTOGRAPH: OMEGA
Since then, Omega has strived to not only increase accuracy of their devices (introducing its Quantum Timer in London 2012 with a resolution of one millionth of a second), but also to develop new ways to monitor in real time the ever-growing canon of sports represented. (Skateboarding and sport climbing were just two new additions that have received approval by the International Olympic Committee as being part of Tokyo's Olympics in 2021.)
This year, sport climbing, athletics, gymnastics and swimming are all getting completely revamped timing treatments. However, what's even more interesting is the fact that Omega has spent the past four years training and developing its in-house AI to learn beach volleyball.
Alain Zobrist, CEO of Omega Timing, is constantly looking for new ways to improve sports timing and monitoring technology. "In volleyball we're now using cameras with computer vision technologies to track not only athletes but also the ball," he says. With this combo Alain's team can capture every moment from different angles on camera in order to keep scoring as accurate as possible while simultaneously making sure that everything runs smoothly behind-the-scenes.
The R&D department for Omega Timing is comprised of 180 engineers, and it started the development process in 2012 with positioning systems and motion sensor systems. The goal was to get to a point where they would provide detailed live data on athlete performance at their 500-plus events each year that matched what viewers were seeing on screen. For multiple sports this took less than 10th of a second so information could be measured, processed, transmitted accurately without delay.
With beach volleyball, this means using this positioning and motion technology to train an Artificial Intelligence (AI) to recognize and distinguish various shot types—from blocks to smashes to spikes etc.—and pass types, along with the ball's flight pattern, and then combine all this data with information gained from gyroscope sensors underneath the players' clothing. These sensors are then used to gauge the direction of movement and other statistics such as height, speed, etc. Once processed, this can be all transmitted in real-time to broadcasters for use in commentary or on-screen graphics.
According to Zobrist, one of the hardest lessons for the AI to learn was accurately tracking a ball in play when it could no longer be seen. "Sometimes, an athlete's body part will cover up what you can't see on camera. Sometimes it is out of frame and we don't know where it went," he says. "So our challenge was predicting where that ball goes so that once they get back into view again, the AI can automatically fill in those gaps with data from before [it gets lost]. That has been one of the biggest challenges. "
From tracking the ball to monitoring players, it is this information that fuels AI in order for them to better understand what is happening. "When you can track the ball," Zobrist explains, "you will know where it was located and when it changed direction." When combined with player data from their sensors though, the algorithm recognizes if a block or smash occurred as well as which team and who made each point on court!
It's only through these different modes of technology working closely together that AI has become more accurate at measuring plays during games.
Omega Timing claims its beach volleyball system is 99 percent accurate, owing to the multiple sensors and cameras running at 250 frames a second. However, the veracity of their claims remains to be seen as more information is still required.
Breckon, an expert on artificial intelligence and robotics from the University of Southern California in Los Angeles comments "What has been done is reasonably impressive. And you would need a large data set to train an AI on all the different moves." But he is still skeptical of how accurate an AI can be, especially with the challenges and limitations of ball-tracking.
Zobrist, on the other hand, is confident, and explains that while it might have been easier to call in Google or IBM to supply the AI expertise needed for the 2020 Tokyo Olympics, this was not an option for Omega. "What is extremely important," he says "whether it's for a scoring sport like soccer or timing sport like swimming" "is that we can't have discrepancies between the explanation of performance and result." He adds: "So to protect the integrity of results, we cannot rely on another company. We must have the expertise to explain the result and how our athletes got there."
Zobrist hints at future improvements in timing and tracking, but would not elaborate on what to expect.
"You will see a whole new set of innovations." Zobrist says the Paris Olympics in 2024 are going to have some interesting upgrades that we haven't seen before-and things seem even more promising for LA's 2028 games!