HubSpot for Startups: Is it worth it?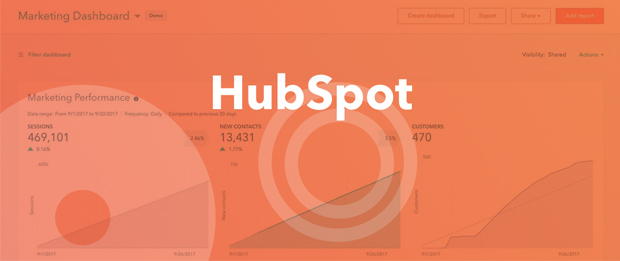 As an Entrepreneur, we know what it feels like to wear multiple hats in times of crisis. From uplifting the mood of your employees to managing sales and marketing of your Startup, there is a haphazard shift between roles. 
It is a digital age where tools can help people to be more efficient. How about a tool that can manage your marketing and resolve sales-related problems so that you can focus on other important stuff? 
HubSpot will help your Startup to scale exponentially. Even with limited resources to implement HubSpot, we can help you with that (will mention it later). 
Why HubSpot is a good fit for startups
Onboarding & training
Startups usually run with a limited budget. One important and expensive thing that startups face is training the employees. HubSpot does a great job of providing the right materials for your startup. HubSpot Academy offers complete training on sales and marketing for any business.  
You will be guided by the HubSpot Academy team allowing your team members to understand the portal. Working with HubSpot will grow your business in an organized manner, and especially startups who do not have a clue on how to make sales, how to do marketing, HubSpot will help a lot. 
Growing with HubSpot
One main reason why HubSpot for startups is the right choice is that the platform grows with your company. This means when you start using features, with some subscribers you will get a few features, as your startup grows and you increase the subscribers, more features will be added. And there is a robust subscription level plan for every phase of the startup. 
HubSpot offers professional and enterprise-level features to big teams and huge companies. 
As your team grows, you will know it is time to upgrade the subscription of HubSpot because then you will need extra features for your startup. 
HubSpot offers an amazing 300 integrations with third-party platforms. This enables HubSpot to feed-in with information beyond HubSpot and get the outside support that a startup requires. 
For instance, if you run an event company and you require to get all attendee information in HubSpot. You can use Eventbrite, which can easily be integrated into HubSpot. Check out HubSpot's App Marketplace and get all the related information. 
Why will HubSpot not be easy to implement?
HubSpot's Customizations
Whatever industry you belong to, as a startup, you need to customize the CRM for your business. Although there are customization options in HubSpot, it is not easy to understand and implement quickly. You need some training before you implement the HubSpot customizations. This is where we can help your startup get the customization right. 
If you try to customize yourself, there might be a point that with the tools, it might turn out to be difficult for team members. 
Generally, HubSpot is easy to implement, but for startups, some expert-level help is required. 
HubSpot Strategy, Optimization, and Implementation. Let's begin!
Dedicate one person from your company
One sure-shot way to be successful with HubSpot is to assign one person to your team specifically for HubSpot. Unless you use some professional agency in which case you do not have to worry about it, one person from your team must engage with the activities happening in HubSpot. 
Even if you end up working with HubSpot, your team needs to communicate thoroughly with one representative of HubSpot. That person will guide you on how to move things forward. 
This is one more reason to hand over HubSpot integration to professionals and save the time, energy, and effort of your employees.  
Understanding inbound methodology
HubSpot has its core in understanding inbound methodology, which is focused on attracting, engaging, and delighting the customers. 
While this form of marketing helps one department of the organization, most of the tools used by HubSpot will help and grow every member of your team. 
For instance, if a marketer learns more about sales and content, he would be able to sell better with email templates that can be easily edited as per the need of the organization. 
The goal of inbound marketing is to bring all the people of your startup on one page. This will enable everyone to grow with the same phase, and everyone must learn inbound marketing to get a better understanding of HubSpot. 
How will HubSpot improve your Startup?
It is a dream software for marketers. You do not need to juggle between various platforms to reach a new market. With HubSpot, you can optimize content, monitor customers, and convert them into leads. 
How about one tool that can manage all your marketing needs? With deep insights into the buying intent of the customer, you have got the marketing side sorted out. 
Identify prospects easily 
HubSpot can easily monitor the IP addresses of companies who have visited your website. The activity can be monitored, it will be recorded, and it will be easy for you to analyze the customer and give what they want. 
Hone your emails skills 
When you get the right information for each prospect, it will be easy to customize and automate emails that will surely generate leads in your inbox. 
Your sales team will get top-notch feedback from experts at HubSpot. Most of the emails will be tracked from start to finish, and everything will be automatically updated. This is quite helpful as the recipients will interact with your emails, and the information will improve your marketing efforts. 
An in-build calendar to make your life easy 
As a startup, you might face a problem with the content and its organization. To overcome the problem, the calendar will be a lifesaver. Marketing is all about planning and staying ahead of your competition. 
HubSpot's calendar will give a clear view of the days ahead, weeks, and months. You will be able to schedule social posts, emails, blogs, and landing pages, which can be scheduled and published in the future. 
SEO will be your best friend 
HubSpot will quickly optimize your SEO so that you will never have to face the nightmare ever again. Develop authority with over-the-top HubSpot tools that will help in securing a top position in search engine results and outrank your competition.  
When you create a blog or even a landing page, HubSpot will take care of the SEO. You can plan your content strategy, build authority, and create clusters of content that can easily be integrated with content related tools.  
Go one level-up by tracking the performance of the content and optimize your content with relevant industry-popular topics. 
HubSpot is great for Startups as it will grow and enhance your inbound marketing, sales, and customer support. 
If you feel that HubSpot is hard to implement, we are here to help you. Customize your startup for larger platforms, our experts will guide you throughout the journey, and your startup will outwit your competition in no time.  
If you feel confused about the cost, get a FREE quotation for your Startup.