Examining The 2021 Trends & Future Of Mobile Apps
Living in the 21st century, there is nothing a consumer cannot get through custom mob apps, whether they want to connect with friends or family, socialize, seek entertainment, satisfy their food cravings, attract potential customers for the business, book an appointment, do shopping, plan a trip or literally do anything in the world. The most common factor among the top apps like Facebook, WhatsApp, LinkedIn, Instagram, Twitter, and many others, is that they keep making changes to their interface, user experience and software, etc. according to the ever changing trends.
There are many real-life examples of brands and companies that resisted change and ended up with dramatic loss or closure of business. On the other hand, the competition in the market never skips the chance to take full advantage of even a single decision-making mistake from a competitor. This means you have to go with the flow of trends to stay at the top and to survive in a market full of competition.
One such real-life example was cellular phone giant Nokia resisting the change when Apple and Samsung stepped into the market with their touch screen devices, completely changing the mobile phone market landscape. Nokia tried to launch its first touch screen phone back in 2008 but it was too late and little. The device was heavily criticized as it was no match with the iPhone and lacked a number of friendly features. 
Why Mobile Applications Are So Important For Businesses?
Mobile apps have become a necessity for almost every business regardless of size or nature. Consumers nowadays seek convenience. They prefer to take advantage through fast mobile apps rather than physically visiting the platform. You will find a lot of competition in the mobile application development industry.  All types of businesses are now using various apps to promote their product or services and to bring ease to the user's experience. It is surely the most significant way to reach out to potential customers and to engage them. 
Here are a few valid reasons why your business needs mobile app development;
Adds Value To Customers
When we talk about business in the digital economy, it is all about customer engagement at the time when they are looking for some specific products or services. You might have worked on some strategies along with your marketing team to increase the engagement of the customers. The main reason for customer engagement is clear, that is to increase sales. However, you must also provide a unique value to your customer which they should find only with your offering.
You might be wondering the context of mobile applications in this scenario, right? Well, mobile apps can give a certain value to your customers. Apart from convenient and quick access to your products or service offerings, you can provide exclusive discounts or vouchers to the customers who subscribe or regularly use your mobile app. This acts as a factor of motivation for the customers to show their brand loyalty. Mobile applications can add value to the customers in the following ways;
Convenient viewing, accessing information and ordering, anytime, anywhere.
Exclusive rewards, such as discounts & vouchers.
Customers can easily pay directly through the app.
A professional mobile app can speed up the ordering and delivery process.
Increased credibility.
Increase In Sales
Mobile applications enhance the accessibility to the desired products and services for the potential customers. The accessibility of your product and services is directly proportional to the overall sales.
Let's see the example of Starbucks. According to a research, they first launched their mobile app in the year 2010, which now brings 20% of the total revenue from all over the USA. The payment system and the mobile app are considered the two leading factors involved in the success of Starbucks.
The mobile app development can effectively push sales in the best possible way. As per Statista Research Department, the estimated revenue through in-app advertising and download will be around 935 Billion US Dollars. This graph shows the study of the revenue generated worldwide through mobile apps.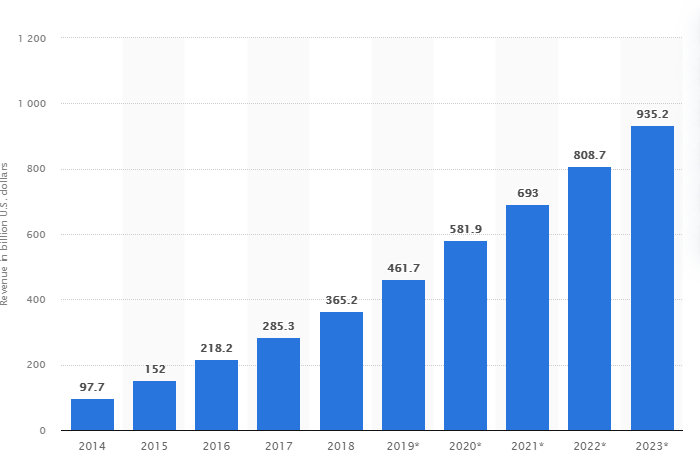 A Healthy Customer Connection
It's only a few years back when customers used to sit face to face with the sales or customer support associates to solve their queries or to find ways of availing a service. However, customer services have extended the horizon with the help of digital technology to provide prompt and customized response via apt use of mobile apps.
With the help of mobile apps, customers have the entire world in their pockets. Just think of a situation as a customer, you wake up in the middle of the night and want to find some answers to a query related to a particular brand or business. Would you wait for business hours to be able to visit a shop or talk to a person? Or would you prefer using their app to get instant answers? Obviously, you would prefer the mobile app. This feature affects the decision-making process and time efficacy among the customers. When customers get the right information at the right time, that is exactly when a healthy customer relationship begins.
Creating Brand Awareness
Mobile apps are one of the best and the most effective factors to create brand awareness among potential and targeted customers. Due to increased accessibility and reach to the customers, the probability of creating brand awareness also increases simultaneously, as there are billions of smartphone users all around the globe.
With the help of mobile apps, a business or an organization can send discounts and other offers to potential customers via notifications.
Here are some key reasons why every business and organization should consciously choose to have a mobile application;
Developing mobile apps for your business is worth a long term investment. It ensures your continuous presence for the potential and targeted customers.
Customers don't have to wait for a specific timing to visit the platform as every detail is provided in the app.
It is one of the fastest ways to transfer information than any other source.
Mobile apps provide an opportunity for your brand to get recognized by the maximum potential consumers/audience.
Mobile applications are more likely to enhance customer engagement if compared to any other medium.
There is no doubt that mobile apps development is the most crucial component of modern businesses. No business can survive in this high-tech era without meeting these necessary and significant standards of business.
What Is Going To Be The Future Of Mobile Applications?
Mobile apps are already advanced and evolving. You might wonder what can possibly be the future of mobile applications. Well, let's see some of the technologies that can give you an overlook of future mobile apps;
Cloud Model Apps
App development based on the cloud models is taking the market by storm. It is more feasible for businesses and organizations to handle big data with the help of mobile app development with cloud models, rather than all other app development models.
Here are few reasons why you should use cloud computing services for your business;
Scalable
Cost-effective
Quick recovery
Geographical reach
Monitoring & DevOps
There are many cloud computing apps, such as Google Drive, pCloud, iCloud, Microsoft OneDrive, and many more. 
AI-Driven Apps
Artificial Intelligence (AI) is already at the next level in the tech world. All business sectors are now preferring AI to improve their business operations and to reach the maximum level of customer satisfaction.
Here's how AI is becoming significant in mobile apps development;
Increased credibility
Automated and real-time reply
Easy language translation
Enhanced security
Improved searches
Understanding of behavior pattern
Google Assistant, Alexa, Siri, are some of the examples of AI-powered mobile apps. 
Instant Apps
Instant apps are the new and the next level of technology where consumers don't actually have to download while still enjoying the functionality of the app. It entirely eliminates both the installation requirement and process. It is effective because most of the users are not ready to install a new app. However, a limitation of instant apps is that they are only available for android phones.
The following factors prove the significance of instant apps;
Complete elimination of installation process
Ease in online purchases
The best user experience
Easily discoverable and accessible content
You can find many instant apps, such as Buzzfeed, NYTimes, Red Bull TV, and many others. 
IoT (Internet Of Things)
You might have seen a conception of a smart home where most of the households items are connected over the internet. You can control the smart lights all over the place, security system, coffee machine, alarm clock, wardrobes, garage entrances, equipment, and many more with the help of IoT.
This is why app developers are keen to invest more and more in smart home app developments through IoT. If we trust Statista's IoT report, then we are going to have over 75 Billion IoT connected devices all over the world by the year 2025.
Mob Apps For Wearables
Wearable devices have a wide market and an ever growing demand in the year 2021. Businesses and organizations have a greater opportunity to dive into the wearable market and enjoy higher returns. Mobile apps for wearables are different and more unique than all other apps. You can understand the creativity of mobile apps for wearables by thinking about the mechanism of the watch that helps you track and count the calorie burn during your workout.
Here are few examples of wearable apps for a good understanding;
Apple watch
Fitbit
Body sensors
VR & AR
Smart jackets, and many other gadgets.
Conclusion
Throughout the progression towards a high-tech era, the advancement of mobile app development industry is growing simultaneously. Businesses are looking to find the most credible mobile app development companies to develop customized apps as per their requirements.
But you need to look no further. Mpire Solutions is a one-stop-shop that has helped a number of businesses develop a variety of mobile applications using a wide variety of technology platforms. Connect with our mobile app design and development consultants for a free consultation on how a mobile application can turn your business around.