Everything You Need to Know about the Google Sitelinks Search Box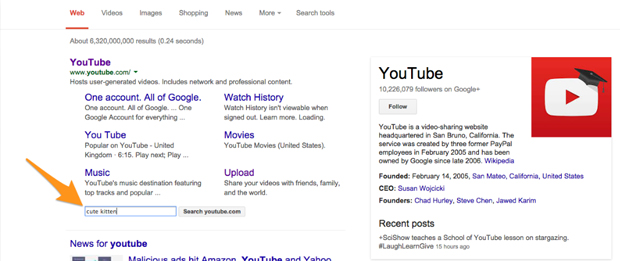 The Google Sitelinks Search Box is yet another SEO feature that can impact your site traffic and user experience. In this blog, we'll cover everything you need to know about the search box, including how to use it to your benefit.
What it is
First, let's go over what the Google Sitelinks Search Box looks like, because chances are you've already seen it. It appears on Google's SERPs under a website link and lets you search there before taking you directly to the website's search results.
The Google Developers page explains the need for this feature. Their goal is to make the search experience better for users by allowing them to place all of their searches right on Google's site:
"Search users often perform navigational searches using product or brand names. Then, on the product or company website, they perform a second search for specific details. Using sitelinks searchbox markup in your content lets the user perform the second search without leaving the original, navigational search results."
For Google, it's all about providing users with an optimal experience. The real question is how this affects businesses and their website's usability.
How it works
The function of the Google Sitelinks Search Box is simple. The Google Developer's Page offers Pinterest as an example. If you search Pinterest on Google, then you'll see the corresponding search box directly under the first link.
If you search for something within that box, then you'll be brought straight to the search results on Pinterest's website. It's the same as going directly to Pinterest and using the search box on the site. Just simpler and fewer steps.
How you can optimize your site for it
This feature is mostly beneficial for businesses. Not only does it bring users to your site, but it also lets them search for specific terms before they ever get there.
The only thing that's left is optimizing your site for the search box. The Google Developers Page offers some help in this respect. It suggests, for example, adding a markup to your site's homepage, specifying only one URL search pattern per platform, and always including a search target for your website.
If you have a WordPress site, then you just have to add a few lines of code to the header.php file of your site. This will signal to Google that your site is compatible with the Sitelinks Search Box.
How to disable it
Of course, not all businesses will want to take advantage of this feature. You might think that by allowing users to go straight to the search box on Google's SERPs, they'll be missing an important component of your site experience. This may compromise your content hierarchy and encourage users to skip over critical information. Alternatively, you might be considering this feature's impact on your page views and ad revenue. Either way, there are legitimate reasons to disable it for your site.
The good news is that you can disable the feature at any time. This Search Engine Land article offers the code you need to do that:
(meta name="google" content="nositelinkssearchbox")
Here's the one caveat, according to the article:
"Webmasters who add this tag to their site, will communicate to Google not to show a sitelinks search box when your site appears in the search results. The sitelinks search box will be disabled as part of the normal Googlebot crawling and processing of the page, which can take a few weeks depending on the site and other factors."
So, it might take a couple of weeks to disable the feature completely. But once it's gone, it won't come back.
If at any point in time you decide you'd rather have the Sitelinks Search Box, then you can just remove the code, and wait a week or two for it to start showing up again in Google's SERPs.
Why it's not appearing for your site 
Some businesses want the Sitelinks Search Box to appear under their link on Google's SERPs, but never actually see it. There are a few possible reasons why this could happen.
This SEM Post article takes a look at what John Mueller said in a recent Google Webmaster Office Hours event. According to the article, the main takeaway is that just adding a schema to your site won't guarantee it to get a Sitelinks Search Box in Google's SERPs:
"If you do not already show a Google search box in your Google search results listing, merely adding the schema won't trigger Google to suddenly display it.  So while you can still add the schema, don't expect to suddenly see the site search box for your site in the search results.  This is something that John Mueller explained in a recent Google Webmaster Office Hours."
In other words, while optimizing your site for the search box won't hurt your chances, it also won't automatically trigger it on Google's SERPs.
Like always, Google factors in site quality and searcher intent when incorporating these features. If you're doing everything you can for the Sitelinks Search Box and still not getting one, you might be better off reevaluating your site content and design.
The Google Sitelinks Search Box can improve your user engagement by making it easier to search on your site. Optimizing your site for this feature is relatively easy if you use WordPress. Moreover, you can also easily disable the feature if you decide that's best for your user experience.
To talk more about the Google Sitelinks Search Box and how it affects your web design and marketing strategy, contact us today.