How to Choose the Best Cloud Storage for 2022
Introduction
Storing and sorting data is not a piece of cake, especially due to the limited space and the hassle it involves transferring to external devices. Data storage has become more important than ever from individuals to large enterprises. But with cloud storage, you can store and sort files with much ease.
As the name indicates, cloud storage offers you an easy and cost-effective way to store your data off-site. You can access data and share it with anyone using public or private internet. Additionally, it gives you an online backup if you lose your device or your computer crashes. It is an important cybersecurity measure as well.
A third-party cloud provider handles your data, secures, hosts, manages, and maintains servers. Its provider's responsibility to make your data available whenever you need it. But there are multiple cloud providers in the market. They differ in their features and pricing. Choosing the right provider depends on your needs.
In this article, we will discuss four popular cloud providers: Google Drive, OneDrive, Dropbox, and Box. You will get a detailed know-how of how they operate, their features, and pricing. After reading this guide, you will be able to make the right choice for your business or personnel needs.
This article contains the following information.
Factors to Consider before Choosing a Cloud Storage Provider      
Security          
Backup           
Servers and Open Sourcing  
Pricing of Cloud Providers     
Cloud Storage Platform: Google Drive, OneDrive, Dropbox, Box   
1-Google Drive          
Major Features of Google Drive        
Pricing and Storage Options  
2-The Microsoft OneDrive     
Major Features of OneDrive   
Pricing of OneDrive   
3-The Dropbox           
Major Features of Dropbox     
Pricing of Dropbox     
4-Box 
Major Features of the Box     
Box Pricing
Google Drive vs OneDrive vs Dropbox vs Box. A Comparative Analysis.
Factors To Consider Before Choosing A Cloud Storage Provider 
As with cloud storage, you can store your data, particularly if you're running a small business and you don't have enough resources to manage your data. But what if you work at a large enterprise and need to store hundreds of gigabytes regularly. For that, you need to work with a reliable and flexible cloud provider so that you can negotiate with him for custom deals and pricing.
Here are a few factors you might consider carefully before choosing a cloud provider.
Security
The security of data is the most critical factor for an organization. It becomes more critical for organizations that handle sensitive data like credit card details and medical records. You need assurance whether your data is safe against cyber threats with the most advanced and up-to-date methods available.
You will want to have the latest endpoint protection, regular updates, and patches to stay safe against any malicious act. Your cloud provider should provide you with well-defined actress and authentication policies to ensure the safety of your data.
Most providers offer baseline protection measures such as user authentication, access control, and data encryption. Although these measures are enough for data security, some data need added protection to meet regulatory compliance. Make sure your provider complies with all regulations.
Data is always vulnerable to cyber attacks when in motion. Cloud providers mitigate these risks by encrypting data. Also, companies use dedicated connections instead of public internet to access data from a cloud storage server.
Backup
Backup is also crucial, like security. Companies need to backup data to access it when needed if they lose data due to a cyberattack, natural disaster, or human error. Cloud-based backup is very popular as it prevents business interruptions if data is lost. Also, it frees employees from extra work needed to replicate essential data to make it readily available in the wake of any crisis.
Cloud backup offers needed scalability, cost-effectiveness, and ease of access. Automation is the most prominent feature. It prevents any delays in data backups if users put it off or forget to do it on time. With automated backups, you have the flexibility to initiate backups on a daily or hourly basis whenever new data comes into your network.
As a third party from an off-site premise manages your data and stores it, so you have an added advantage. If your on-site backup system hits a natural disaster or attack, you may lose data permanently. You can't recover it again. So using a cloud-based backup ensures your safety against such incidents.
Servers and Open Sourcing
Cloud-storage servers are virtual servers that emulate physical servers. A physical server hosts multiple virtual servers making it possible to provide services to many customers. This virtualization boosts efficiency as more customers can take advantage of a single physical server.
Virtualization also enables cloud providers to offer flexibility in pricing as they can charge only for the storage capacity you consume. Suppose the existing server is about to reach capacity. In that case, the provider spins up another server to add capacity or allows you to add your required capacity on your own.
If you have the required expertise in building virtual servers, you can opt for open-source cloud storage. In this way, you can inspect, study, and make better use of it. It gives you more control over administrative tasks and security. Another advantage of open-source cloud storage is cost-effectiveness. 
Although cloud providers offer you virtually unlimited space, it comes at a price. The more space you use, the higher the price gets. But in the open-source, you can scale capacity as per your coding and engineering expertise.
Different open-source cloud providers offer varying functionalities. Compare their features to choose the right provider as per your needs. Some key features are
Syncing files between devices in multiple locations
Tools for auditing and data encryption
Password protection, and access control
Pricing of Cloud Providers
Cloud storage offers cost-effectiveness by eliminating in-house infrastructure for storage.  You have to pay monthly fees per gigabyte of storage space used. It all depends on the policy of the provider you choose. The price plan usually includes all additional charges for transferring data between different networks.
Providers can charge extra fees besides the basic storage and data transfer plan. For example, you have to pay extra money if you make changes in data or move it between different networks. The cost increases with every time you access data to make changes.
The providers also charge for the number of users accessing the data and how far the data travels. They charge differently for different needs—pricing increases for extra security and regulatory compliance.
Which Cloud Storage Platform Is The Best? 
The most popular names for cloud storage are Google Drive, OneDrive, Dropbox, and Box. Which one is the best fit for your needs? Today, we will discuss their spec and features, and pricing.
Google Drive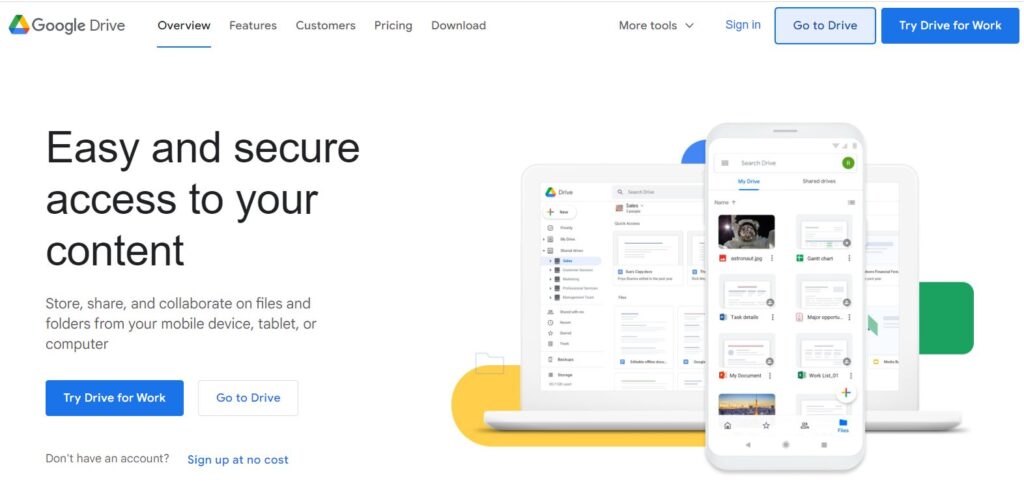 Image Source: Google.com
As the name indicates, Google drive is an excellent cloud-based service that lets you store files and data online. This service syncs documents, files, photos, and more across all user devices like mobiles, tablets, and PCs. Google Drive integrates Google's other services like Google Docs, Gmail, Google analytics, etc. Other offerings include a word processor, spreadsheets, and presentation builder. Also, it offers 15 GB of free space to its users.
If you have a Google account, then you can access Google Drive. Just type drive.google.com and press "Enter". My Drive will automatically appear, end-user can download the Google Drive application to one or more devices. The files that the user uplands on one device are available through a web app or Google Drive app on all devices.
When the user creates a file or folder, he automatically becomes its owner. He has complete control over its visibility and can transfer ownership using Gmail addresses. The owner can also regular access commands using predefined options like "can edit", "can view", and " can comment".
Previously, Google Drive had desktop and macOS apps, but now it has desktop apps for Backup and sync. These apps allow users to sync locally stored files to the cloud. Business companies can use the Drive File stream. It stores files online, preventing users from storing sensitive corporate data on their hard drives.
Users can access information from any device, but they must use separate Google Docs, Sheets, and Slides apps to create files.
Major Features of Google Drive
Google Drive integrates with the first-party and third-party extensions. You can search via the Chrome web store. End users can complete several tasks using these extensions. To connect third-party apps, simply click "My Drive", "more," and "connect more apps". Third-party apps are free, but they charge for certain features.
Google Drive's search feature allows users to sort results by name, file type, date modified, location, etc. Also, Google Drive offers a quick search feature by employing machine learning. It predicts and displays files based on user activity and workday schedule.
Pricing and Storage Options
The free version of Google Drive offers 15 GB of space, while the paid version 'Google One' has pricing options:
100 GB for 2$ a month. You can pay 20$ for an annual purchase.
1 TB for 9.99$ per month.
and 2 TB for 19.99$ per month.
10 TB for 99.99$ per month
20 TB for 199.99$ per month.
30 TB for 299.99$ per month.
The enterprise version of Google Drive has unlimited storage, more control, can connect with existing business applications of the company, and more. Also, Google offers additional assistance and support.
Microsoft OneDrive
Image Source: Microsoft.com
OneDrive is an online storage platform that offers its user a significant chunk of space. Anyone having a Microsoft account can use it. It's part of the Microsoft 365 subscription module, and Users get Microsoft official plus 1TB of cloud space. It also offers a free space of 5GB for its users. oneDrive integrates with Windows 10 and offers file storage as a default option.
Like Google Drive, OneDrive also enables users to store files and access them on multiple devices. This means you can access the file from many locations and work on them. It allows easy access to cloud storage, and you can share files with much ease.
OneDrive integrates with Microsoft office. Using it, you can access Excel, PowerPoint, and Word files. It is already present in Windows 10. Users just need to sign in using a Microsoft account to access it.  Users can edit office documents and browser content and create and share folders. It offers Facebook integration and a camera roll backup option.
Users have the option to scan and save data. They can select whether to choose OneDrive or File Explorer to save data. Save data on both locations if using OneDrive as a data backup platform.
Major Feature of OneDrive
OneDrive lets you share files with anyone. You can also set passwords for shared files for extra security. Select a file or folder and share it using the share button on the toolbar. You can enter the email address of those you want to share the file with. You can allow recipients to edit files if they have office 365 installed on their device.
Users can also choose additional access privileges using options in the drop-down menu. They can generate links to share the file. Just copy the link and paste it to whoever they want to share. OneDrive is also available on Mac, IOS, and Android phones.
The personnel vault is another essential feature that lets users store personnel information with added security. Users can access files in the personnel vault via a strong authentication method or by adding another layer of identity verification.
Pricing of OneDrive
OneDrive has a free plan of 5GB. Users can upgrade to other home or business plans as per their needs. Home plans include
100GB a month at 1.99$.
1 TB of storage office 365 personnel plan at 69.99$.
6 TB of storage office 365 family plan with 1TB for six different users.
OneDrive business is a standalone product. It is separate from office 365 but comes with the office online. The business version has additional features like multi-factor authentication, built-in compliance standards, and auditing and reporting capabilities. It also has three plans.
Plan 1: 5$ per user per month.
Plan 2: 10 $ per user per month.
Plan 3: 12.50$ per user per month.
The maximum data storage reach is 1 TB per user.
Dropbox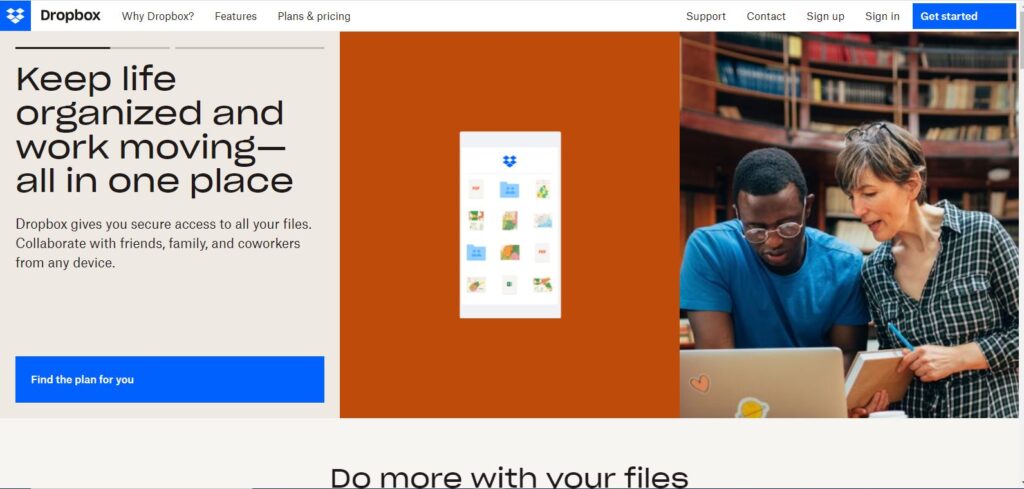 Image Source: Dropbox.com
The fantastic thing about dropbox is that it's easy to use, reliable, and somewhat of a personal nature. You can access it using any platform from the website, windows, Mac and Linux, iOS, and the Androids. It offers online sharing of files, photos, and documents. Dropbox also boosts collaboration when working in a remote group.
The service offers 2 GBs of free space in the free version, and space reaches 100 GBs for upgraded versions. Dropbox is very flexible in making changes to data files. You can install the Dropbox app, and it appears in the menu on the user's device. You can drag and drop files, add new folders and save files like a local file explorer. You have the option to recover files that you've deleted in the past 30 days.
Major Feature of Dropbox
Accessibility is a prominent feature of Dropbox. Users can generate a URL from the website and share it with recipients or send invitations for sharing files. Recipients that don't have Dropbox accounts will have to sign up to view the files. Once the user accesses the folder, it appears in the system.
All recipients can make
changes to the files, and the system automatically saves all new versions. Working of Dropbox favors consumers, but its use is increasing at the enterprise level, especially in the IT sector. Its name relates to banks and post office repositories that securely allow people to drop items.
With paid versions of Dropbox, users can benefit from additional features like live mobile support, offline folders, and remote account wiping.
Pricing of Dropbox
Dropbox offers a free version with 2 GB of storage space, backup, collaboration, and file sharing features. It has several paid plans with additional features.
Individual professional plan with 3 TB storage space at 20$ a month.
Standard professional plan with 5 TB of storage space at 15$ per month
Advanced team plan with unlimited storage at 25$ per month.
Box
Image Source: Box.com
Sounds very similar to Dropbox, but Box is a separate cloud storage option for saving files, photos, and videos. It is very similar to Dropbox in its operation like group collaboration, assignment handling, leaving comments on other work, and many more.
You can manage accessibility permission by password protecting shared files, allowing specific persons to upload and edit files, and even setting an expiration date for your shared folders and files.
Major Features of the Box
The overall working of Box has a focus on enterprise needs. It offers built-in features that explicitly benefit businesses.  Box has three main areas of focus.
Integration with enterprise applications.
Content security.
Collaboration over the extended organization.
Application integration promises a new outlook to customer communication management (CCM). Delta Material DMS, a division of Delta Airlines, uses Box. It shows how Box is helping enterprises achieve their goals. DMS relies on Box to power a new B2B application to reduce sales time and boost efficiency. 
Similarly, a private equity firm manages its documentation within its collaboration portal. Box ensures the security of documents and allows only authorized persons to access the documents.
The company is investing to boost content management security and enhance compliance capabilities. Box utilizes machine learning to detect discrepancies in data and enforce classification-based policies to avoid data leakages. Once the customer selects a security policy, Box checks and monitors its pattern and alerts administrators about potential threats.
Box also offers more flexibility in collaboration by offering a shared repository.  Cascading folder-level metadata, simplified sharing, thumbnail previews, and large file size support are prominent features of the Box. These features make Box more competitive for team computing.
Usually, tech-savvy employees rely on emails. They first envision the workflow and structure of the steps in the activity stream. Although emails are good for coordination, there is always a risk of overflowing mailboxes. Box mitigates such risks and reduces the reliance on emails.
Box Pricing
The free plan of Box is 10 GB with a maximum upload limit of 250 Mb. It also involves several business plans.

So if you don't want to own physical data centers and servers, but still want to have access to storage, software, database, network, and other services, Mpire Solutions provides a variety of Cloud Computing Services. Let's connect.